Kindle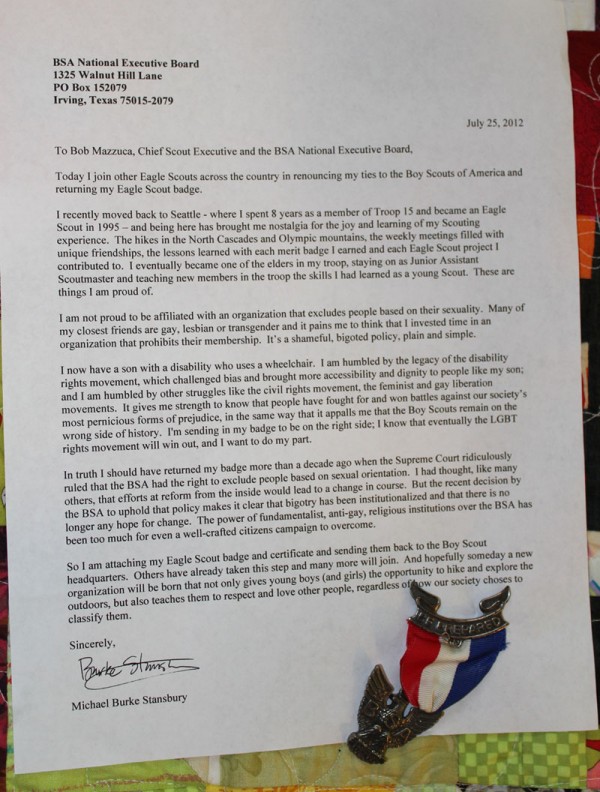 Earlier this week, I posted a couple batches of letters from grown-up Eagle Scouts who chose to resign their hard-earned, elite awards in protest of the Boy Scouts of America's policy banning gay and atheist scouts and troop leaders.
I'm still getting letters in the mail. These things are coming in faster than I can update the posts. Which is why I'm very glad that several former Eagle Scouts have taken matters into their own hands, starting a Tumblr that can play host to all these letters, and all the ones going forward.
Burke Stansbury put the site together. In his own resignation letter, he wrote:
I am not proud to be affiliated with an organization that excludes people based on their sexuality. Many of my closest friends are gay, lesbian, or transgender and it pains me to think that I invested time in an organization that prohibits their membership. It's a shameful, bigoted policy. Plain and simple.
I'll be contacting people who have sent me letters recently about whether it's okay to forward their emails to Burke. And if you'd like your letter to be archived on the Tumblr, there's an easy-to-use submission form right on the site.
Eagle Scouts Returning Our Badges on Tumblr
PREVIOUSLY:
Eagle Scouts Stand Up To the Boy Scouts of America
More Men Join the Ranks of Former Eagle Scout
Maggie Koerth-Baker is the science editor at BoingBoing.net. She writes a monthly column for The New York Times Magazine and is the author of Before the Lights Go Out
, a book about electricity, infrastructure, and the future of energy. You can find Maggie on Twitter and Facebook.
Maggie goes places and talks to people. Find out where she'll be speaking next.
More at Boing Boing