Cow rescued
Firefighters in England rescued a cow after it
got stuck in a tree.
The cow was described as "reasonably happy" following its ordeal.
Read more at Boing Boing
Read more at Boing Boing
Read more at Boing Boing
---
Back when dinosaurs roamed the earth, and the woman seated next to you on the plane could smoke her Virginia Slims all the way from Chicago to L.A., libraries were fully-funded and considered an essential for every community.
---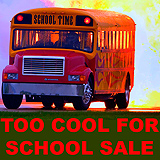 Many thanks to Watchismo for sponsoring Boing Boing Blast, our once-daily delivery of headlines by email.
Save up to 20 percent on most watches at Watchismo's Too Cool For School Sale.
---

Quarterly is a company that sells subscriptions to boxes filled with items selected by guest curators (including our friends Veronica Belmont, Joshua Foer, and Alexis Madrigal).