Kindle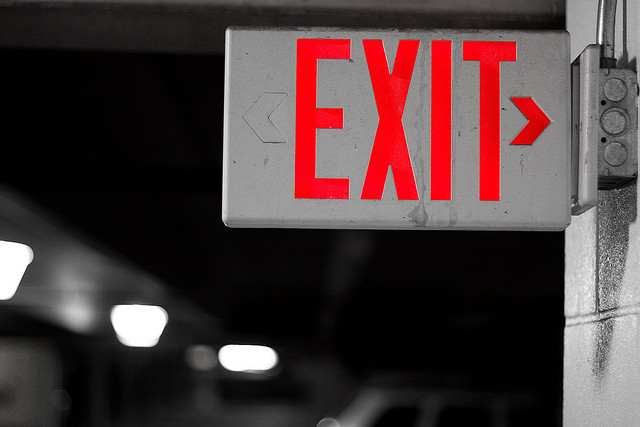 Exit signs are so ubiquitous that they're almost invisible. Every public building has them. In fact, they are so common that, taken together, these little signs consume a surprisingly large amount of energy.
Each one uses relatively little electricity, but they are on all the time. And we have a lot of them in our schools, factories, and office buildings. The U.S. Environmental Protection Agency estimates that there are more than 100 million exit signs in use today in the U.S., consuming 30–35 billion kilowatt-hours (kWh) of electricity annually.

That's the output of five or six 1,000 MW power plants, and it costs us $2-3 billion per year. Individual buildings may have thousands of exit signs in operation.
To put this into a bigger context: This is just one small part of what makes buildings, in general, incredibly energy intense. In the United States, we use more energy powering our buildings—from the lights, to the heating, to the stuff we plug into the walls—than we use to do anything else. Because of that (and because of the fact that electricity is mostly made by burning coal or natural gas) buildings produce more greenhouse gas emissions than cars.
Read more about the energy consumption of exit signs and how we can use less energy, while still getting the same services, at Green Building Advisor
Take a look at some stats on energy use in buildings at the Architecture 2030 website
Via Jess McCabe
Image: Exit Sign, a Creative Commons Attribution (2.0) image from mtellin's photostream
Maggie Koerth-Baker is the science editor at BoingBoing.net. She writes a monthly column for The New York Times Magazine and is the author of Before the Lights Go Out
, a book about electricity, infrastructure, and the future of energy. You can find Maggie on Twitter and Facebook.
Maggie goes places and talks to people. Find out where she'll be speaking next.
More at Boing Boing