Kindle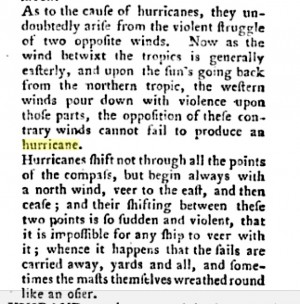 The above is an excerpt from the entry on hurricanes in A New and Complete Dictionary of Arts and Sciences, published in 1763 by the delightfully named "A Society of Gentlemen".
The entry contains information on how natives of the Caribbean were said to be able to predict hurricanes — portents that center around the color of the sky and the phases of the Moon. I'm curious whether any meteorology fans and experts out there can offer insight on that. Read the full entry. (It's short.) And let me know. Does this sound like stuff that would line up with what we know about hurricanes today?
Also: Helpful tip. "F" is pronounced "S" here.
I got this from someone on Twitter, but managed to lose my notation of who during today's ridiculous airport runaround. So, anyway, thank you! If this is you, let me know and I'll get your name on it.
Maggie Koerth-Baker is the science editor at BoingBoing.net. She writes a monthly column for The New York Times Magazine and is the author of Before the Lights Go Out
, a book about electricity, infrastructure, and the future of energy. You can find Maggie on Twitter and Facebook.
Maggie goes places and talks to people. Find out where she'll be speaking next.
More at Boing Boing