Kindle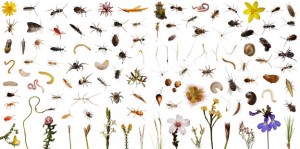 This image, taken by artist David Liittschwager shows the plants and animals collected in a square meter of South African public park over the course of 24 hours.
This image, from National Public Radio, illustrates the plants and animals found over the course of two nights and three days in an Iowa cornfield.
Robert Krulwich has a fascinating piece about the ways food systems affect ecological systems. How efficient is too efficient?
Via On Earth
Maggie Koerth-Baker is the science editor at BoingBoing.net. She writes a monthly column for The New York Times Magazine and is the author of Before the Lights Go Out
, a book about electricity, infrastructure, and the future of energy. You can find Maggie on Twitter and Facebook.
Maggie goes places and talks to people. Find out where she'll be speaking next.
More at Boing Boing