Kindle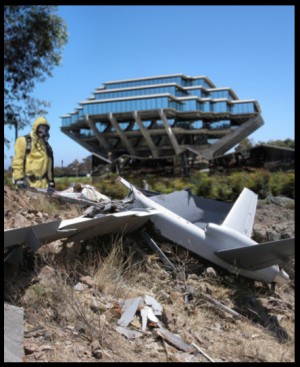 Things you don't read every day
in a college news publication
:
"We understand that the recent drone crash incident has caused alarm amongst students and staff surrounding the research and use of drones on the UCSD campus and surrounding areas, and very much wanted to take this opportunity to educate the public about drone technologies and local deployments. While drone crashes are rare and another malfunction is extremely unlikely, we at the UC Center for Drone Policy and Ethics would also like to take this opportunity to teach basic drone safety techniques that can be practiced on a daily basis to keep ourselves and others safe."
Relax, everyone, it's an art-hoax and part of an exhibition at the university titled "Drones at Home." The artist behind the incident is UCSD professor Ricardo Dominguez.
Hey, "amongst" was a tell.
Boing Boing editor/partner and tech culture journalist Xeni Jardin hosts and produces Boing Boing's in-flight TV channel on Virgin America airlines (#10 on the dial), and writes about living with breast cancer. Diagnosed in 2011. @xeni on Twitter. email: xeni@boingboing.net.
More at Boing Boing