Read more at Boing Boing
Read more at Boing Boing
Read more at Boing Boing
---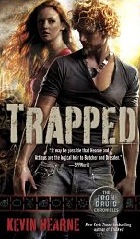 Hounded is the first in the series.
---
Ben sez, "In 'Being More Human,' an essay in the fall/winter issue of Oregon Humanities magazine, Intel futurist and technological optimist Brian David Johnson explains what steampunk has to do creating friendlier, more humanist gadgets."
Steampunk reveals three relationships that people want with their technology.