Kindle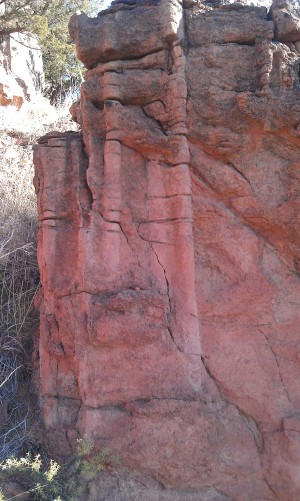 Here's a weird, great geological feature I spotted yesterday while out hiking in rural Oklahoma. We were out in a flat, flat plan that was dotted with a few tall, angular sandstone mounds and narrow sandstone canyons carved out by erosion. This rock was sticking out of the side of one of the mounds. It was the only place we saw anything like these vertical, tube-like structures, which stretched from the ground up to probably about my shoulder.
When I posted this image on Twitter yesterday, several people suggested that the tubes might be skolithos — tube-shaped fossils that were probably made by some kind of ancient worm creature and turn up sometimes in sandstones. While the pictures on Wikipedia don't look very similar to what I saw, there are apparently lots of different forms these things (and similar tube fossils) can take.
Maggie Koerth-Baker is the science editor at BoingBoing.net. She writes a monthly column for The New York Times Magazine and is the author of Before the Lights Go Out
, a book about electricity, infrastructure, and the future of energy. You can find Maggie on Twitter and Facebook.
Maggie goes places and talks to people. Find out where she'll be speaking next.
More at Boing Boing