Kindle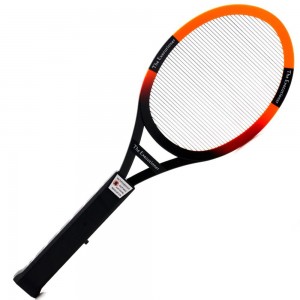 Meet The Executioner
.
Earlier today, I got a tour of the mosquito breeding facility at North Carolina State University. Basically, it's a small room — about the size of my bathroom at home — where scientists breed and grow the mosquitoes they use in scientific research. The downside: Mosquito enclosures are somewhat less than foolproof. Which means the mosquito breeding facility has a significant number of loose mosquitoes. That's where The Executioner comes in. There were multiple Executioners in that one small room. Then entire time I was talking with the scientists, they were simultaneously swinging around these electrified tennis racquets to zap any mosquito that blundered into their personal space.
Personally, I consider this a hell of an endorsement for any bug killing tool.
Maggie Koerth-Baker is the science editor at BoingBoing.net. She writes a monthly column for The New York Times Magazine and is the author of Before the Lights Go Out
, a book about electricity, infrastructure, and the future of energy. You can find Maggie on Twitter and Facebook.
Maggie goes places and talks to people. Find out where she'll be speaking next.
More at Boing Boing