Kindle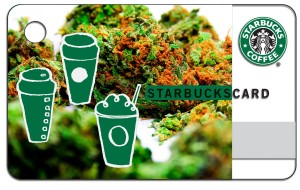 "An alleged illegal marijuana grower reportedly showered his South of Market neighbors with coffee shop gift cards in an apparent attempt at keeping them quiet," reports the San Francisco Examiner.
His plans to keep the grow secret did not work: police say the man and three others were arrested Feb. 12 after a burglary call led officers to a clandestine grow (is there any other kind, under prohibition?) in a warehouse on Stillman Street.
The place reeked of pot (duh); the gift cards were evidently aimed at encouraging neighbors to hold their noses.
Of the accused grower, one neighbor said, "He drove an Audi and wore a cheap suit."
Ouch.
(via SFist, thanks, @tlrobinson)
Boing Boing editor/partner and tech culture journalist Xeni Jardin hosts and produces Boing Boing's in-flight TV channel on Virgin America airlines (#10 on the dial), and writes about living with breast cancer. Diagnosed in 2011. @xeni on Twitter. email: xeni@boingboing.net.
More at Boing Boing