Kindle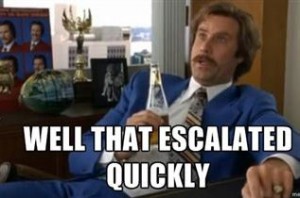 The biggest leak of all this week:
a document from a television news consultancy
that lists words and phrases reporters should use to add a sense of (OMG!) urgency to TV news reports.
Do they sound familiar to you?
Here is a sample:
* take a live look behind me
* but after we told you…we kept asking
* we've been talking about this in the last hour
* we want to give you the very latest
* we are going to stay on this story every step of the way
* we have new information for you as soon as anything happens
* we are following this closely and are making sure you don't miss anything
* we are going to stay on this story night and day
* we are not stopping with our coverage until this story is done

[
JIMROMENESKO.COM
]
Boing Boing editor/partner and tech culture journalist Xeni Jardin hosts and produces Boing Boing's in-flight TV channel on Virgin America airlines (#10 on the dial), and writes about living with breast cancer. Diagnosed in 2011. @xeni on Twitter. email: xeni@boingboing.net.
More at Boing Boing