Kindle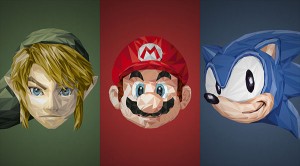 Kill Screen's Jamin Warren writes:
For the past couple weeks I've been working with the fine folks at Kornhaber Brown and PBS Digital studios on a brand new channel. KB are the same folks who do the wonderful Idea Channel and they were looking to turn the spirit of manic intellectualism in something new about games. So they picked me! It's called Game/Show which was magically not taken.

Each week, I'll explore a new subject from the world of games and culture, hopefully provoke you a little bit, and expand your mind on games are and what they could be. Our first episode asks why Mario, Sonic, and Link have endured for so long. We take a look at marketing theory, some historical posturing, and ultimately turn to the work of Joseph Campbell and his "monomyth" for the answer.
(The triangle portraits are by onemoreposter.)