Kindle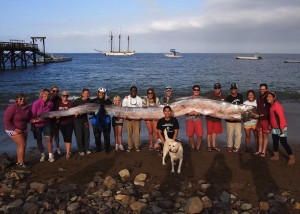 Jasmine Santana of the Catalina Island Marine Institute was snorkeling off the coast about 20 miles southwest of L.A. when she spotted an 18-foot-long oarfish. It was dead. From the AP:
"We've never seen a fish this big," said Mark Waddington, senior captain of the Tole Mour, CIMI's sail training ship. "The last oarfish we saw was three feet long."

Because oarfish dive more than 3,000 feet deep, sightings of the creatures are rare and they are largely unstudied, according to CIMI…

The carcass was on display Tuesday for 5th, 6th, and 7th grade students studying at CIMI. It will be buried in the sand until it decomposes and then its skeleton will be reconstituted for display, Waddington said.
"
18-foot-long sea creature found off Calif. coast
"
David Pescovitz is Boing Boing's co-editor/managing partner. He's also a research director at Institute for the Future. On Instagram, he's @pesco.
More at Boing Boing