Kindle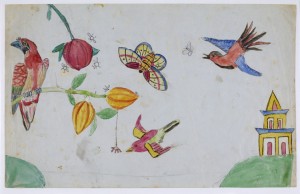 Out of the more than 500 pages that make up the published version of On the Order of the Species, only 28 pages of Charles Darwin's original manuscript survive today. At least two of these later became scrap drawing paper for the 10 Darwin children. The picture above, a watercolor done on the backside of one page of Charles Darwin's seminal work, is believed to have been done by his son Francis.
Maggie Koerth-Baker is the science editor at BoingBoing.net. She writes a monthly column for The New York Times Magazine and is the author of Before the Lights Go Out
, a book about electricity, infrastructure, and the future of energy. You can find Maggie on Twitter and Facebook.
Maggie goes places and talks to people. Find out where she'll be speaking next.
More at Boing Boing