Kindle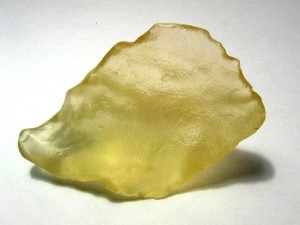 Libyan Desert Glass is opaque, greenish glass formed when the desert sands fused in some sort of extremely hot incident. (Alternately, Sandman Volume 2 Number 9 proposes that the glass is the remains of an ancient city.) What, exactly, created the heat that made the glass is a source of scientific debate, but a new paper suggests it might have been the result of a comet impact. Why a comet and not, say, an asteroid? Scientists studied a stone found in conjunction with the glass and discovered that it contained a mixture of elements that you'd be unlikely to get from an asteroid impact. Instead, the elements suggest an origin outside our solar system's asteroid belt.
Image: H. Raab, used via CC license.
Maggie Koerth-Baker is the science editor at BoingBoing.net. She writes a monthly column for The New York Times Magazine and is the author of Before the Lights Go Out
, a book about electricity, infrastructure, and the future of energy. You can find Maggie on Twitter and Facebook.
Maggie goes places and talks to people. Find out where she'll be speaking next.
More at Boing Boing