Kindle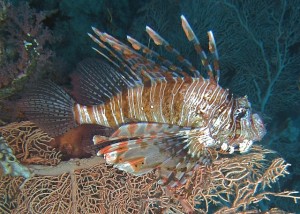 "If You Can't Beat 'Em, Eat 'Em" — that's the name of a fishing tournament dedicated to ridding the Gulf of Mexico, Caribbean, and Atlantic coast of an invasive species the best way we humans know how — by making it into our lunch.
Bonus, unlike some invasive species, lionfish are said to be delicious. In fact, Christie Wilcox, a marine biologist who actually studies lionfish for a living, reports that they are also one of the flakiest, sweetest fish she's ever put in her belly.

Image: Lionfish, a Creative Commons Attribution (2.0) image from gratiartis's photostream
Maggie Koerth-Baker is the science editor at BoingBoing.net. She writes a monthly column for The New York Times Magazine and is the author of Before the Lights Go Out
, a book about electricity, infrastructure, and the future of energy. You can find Maggie on Twitter and Facebook.
Maggie goes places and talks to people. Find out where she'll be speaking next.