Kindle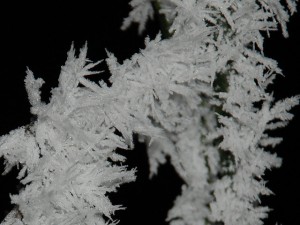 I'd always assumed the moisture for black ice just came from the weather — it rains a little, then it freezes, and voila. But that's not the case. Black ice, in case this is a regional colloquialism that doesn't translate everywhere, is actually transparent ice. It's a thin layer of slippery stuff that forms on roads and is almost imperceptible to the eye. You look and see a normal road. You don't see the ice.
Technically, black ice can form from any source of moisture, but the big one turns out to be the droplets of water that condense out of vehicle tailpipe exhaust and dribble onto the roadway.
Image: Black Ice, a Creative Commons Attribution (2.0) image from cata13es's photostream
Maggie Koerth-Baker is the science editor at BoingBoing.net. She writes a monthly column for The New York Times Magazine and is the author of Before the Lights Go Out
, a book about electricity, infrastructure, and the future of energy. You can find Maggie on Twitter and Facebook.
Maggie goes places and talks to people. Find out where she'll be speaking next.
More at Boing Boing