Kindle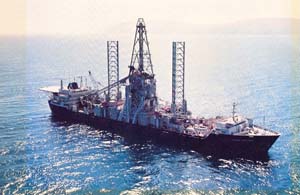 This is the Hughes Glomar Explorer, a ship that's as important to the history of engineering as it is to the history of insanely crazy Cold War CIA schemes.
In 1970s, the CIA used this ship to capture a sunken Russian nuclear submarine — i.e., lifting a 2000-ton object from a depth of three miles to the surface. It was the most expensive intelligence operation ever and it only kind of worked.
Maggie Koerth-Baker is the science editor at BoingBoing.net. She writes a monthly column for The New York Times Magazine and is the author of Before the Lights Go Out
, a book about electricity, infrastructure, and the future of energy. You can find Maggie on Twitter and Facebook.
Maggie goes places and talks to people. Find out where she'll be speaking next.
More at Boing Boing