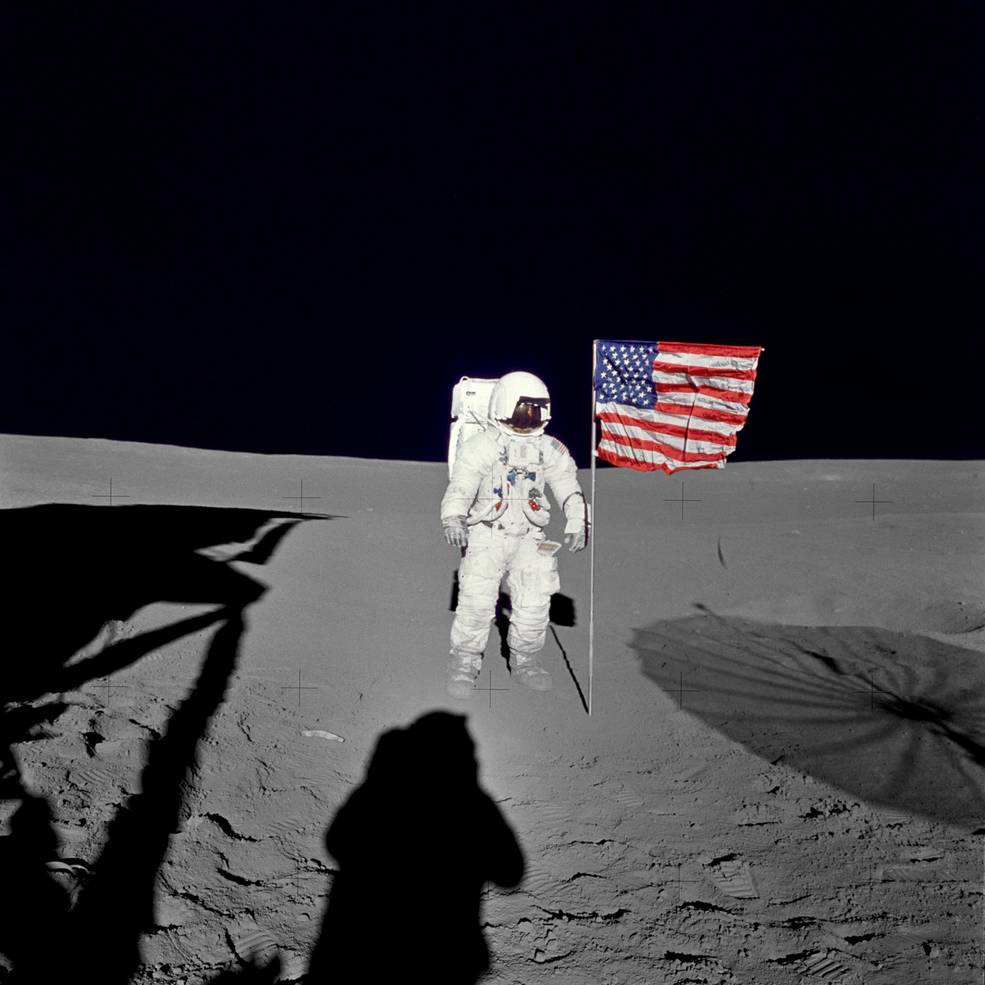 NASA astronaut Edgar Mitchell has died. He was 85 years old.
Mitchell was the sixth human to walk on the moon. He died Thursday night after a short illness. It was exactly one day before the 45th anniversary of the day he landed in the Moon's hilly Fra Mauro region, with crewmate Alan Shepard.
Mitchell was into the paranormal, and the possibility that ESP (psychic communication) could help humans stay connected out in space.
From Bill Harwood at CBS News:
Famous for attempting an experiment in extra-sensory perception on his way back from the moon, Mitchell founded the Institute of Noetic Sciences in 1973 "to support consciousness research and promote awareness of evolving human consciousness," the family said in a statement released by the Astronaut Scholarship Foundation.

Andrew Chaikin, author of "A Man On The Moon -- The Voyages Of The Apollo Astronauts," said in a recent interview with CBS News that Mitchell was "super bright" and "an intellectual."

"Just a real lover of ideas," Chaikin said. "It shows in his post-NASA career because he pursued this question of consciousness and the nature of consciousness. On his flight, he had kind of a mountain-top experience where on the flight home, looking at the Earth, he felt that he was experiencing the universe as an intelligent entity, almost an organism. And that really changed him."
Here are NASA Administrator Charles Bolden's remarks on his death:
"On behalf of the entire NASA family, I would like to express my condolences to the family and friends of NASA astronaut Edgar Mitchell. As a member of the Apollo 14 crew, Edgar is one of only 12 men to walk on the moon and he helped to change how we view our place in the universe.

"Edgar spoke poetically about seeing our home planet from the moon saying: 'Suddenly, from behind the rim of the moon, in long, slow-motion moments of immense majesty, there emerges a sparkling blue and white jewel, a light, delicate sky-blue sphere laced with slowly swirling veils of white, rising gradually like a small pearl in a thick sea of black mystery. It takes more than a moment to fully realize this is Earth … home.'

"He believed in exploration, having been drawn to NASA by President Kennedy's call to send humans to the moon. He is one of the pioneers in space exploration on whose shoulders we now stand."
About the photograph above:
Astronaut Edgar D. Mitchell, Apollo 14 lunar module pilot, stands by the deployed U.S. flag on the lunar surface during the early moments of the mission's first spacewalk. He was photographed by astronaut Alan B. Shepard Jr., mission commander. While astronauts Shepard and Mitchell descended in the Lunar Module "Antares" to explore the Fra Mauro region of the moon, astronaut Stuart A. Roosa, command module pilot, remained with the Command and Service Module "Kitty Hawk" in lunar orbit.