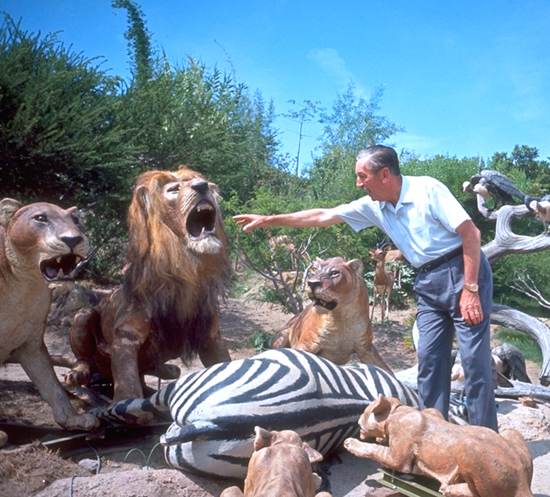 The Jungle Cruise at Disneyland in California was an opening day attraction in 1955. Walt Disney's desire to bring the mystique of faraway lands to what were once orange groves in Anaheim, combined with the inspiration from his series of "True Life Adventure" films, led to its creation. The original boats, festooned with red and white striped awnings on their roofs, were inspired by the film The African Queen.
Walt was rarely satisfied with things in stasis: he was always "plussing" (improving) them. Many changes have been made to The Jungle Cruise since its opening, though the majority of park-goers are unaware of them. The Jungle Cruise has always been popular at both Disneyland and Walt Disney World – there's always a wait (more so in Tokyo Disneyland, where the wait is usually 45 to 90 minutes). Walt didn't have to change it, but he added new and more realistic animals over time, and in 1963 (or so, I believe) asked Imagineer Marc Davis to create a series of "gag" scenes that would increase the entertainment value. These scenes, including a rhino chasing a safari party up a tree, can still be seen in the attraction.
An interesting black and white video of the ride from mid-1960s, where a vocal narration of the ride by Thurl Ravenscroft (he was the voice of Kellogg's Tony the Tiger) from an old Disney LP has been added, is available here.
Numerous videos of its current incarnation can be found on YouTube, and this one of the new upgraded version at Tokyo Disneyland is a lot of fun. The Jungle Cruise Skippers in Tokyo are an intrepid group whose energy level does not diminish even late into the evening. I don't know what they're saying, but it certainly draws a more enthusiastic response from those in the boat than you see in the United States.
The Jungle Cruise remains popular and its old-fashioned charm is probably part of the reason. Considering what The Walt Disney Company could actually do if they put a lot of money into it, it remains somewhat of a curiosity caught in time.
Over on the official Disney Parks Blog they are giving away a free map of the Jungle Cruise which you can download as a pdf and print out at home.
Swipe some colored pencils from your kid and have fun.