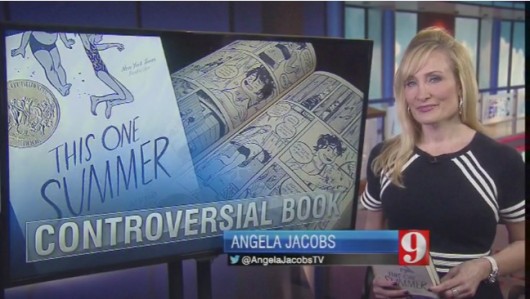 Peter from the National Coalition Against Censorship sez, "A Florida parent thought 'This One Summer' was too graphic for an elementary school library. The district agreed, and then went further; they're restricting access to the graphic novel in the high school libraries as well.
The only time I ever had a book censored, it was at a Florida school. My sympathies to Jillian and Mariko Tamaki on having their book banned. Make no mistake: This One Summer is spectacular and has received awards and accolades from all quarters; it's the first and only graphic novel to win Canada's Governor General's Award, the country's most prestigious prize for literature.
As was the case with my book banning, the officials who banned One Summer violated their own procedures for evaluating challenged works.
A parent of a third grade student at Sabal Point Elementary School in Longwood complained about some of the language in This One Summer, by Mariko Tamaki and Jillian Tamaki. The district removed the book from the library, but then also had it removed from open shelves at three high schools in the district.

Using a complaint from the parent of an elementary school student to restrict access to a book geared towards teen readers is an unorthodox and troubling maneuver. A letter from the National Coalition Against Censorship (NCAC)—signed by the Comic Book Legal Defense Fund, American Booksellers for Free Expression, Association of American Publishers, National Council of Teachers of English, American Library Association, and the PEN American Center's Children's and Young Adult Book Committee—points out that the decision undermines the freedom to read:

While the book may be above the maturity and reading level of elementary school students, its value for young adults at the high school level has been recognized by leading professionals. The book may not be of interest to every student, but as per Seminole County Public Schools' own policies, "The [school's educational media] center shall provide a wide range of materials on all levels of difficulty, with diversity of appeal, and the representation of different points of view."
Florida High School Libraries Restrict Access to Award-Winning Graphic Novel
[NCAC]