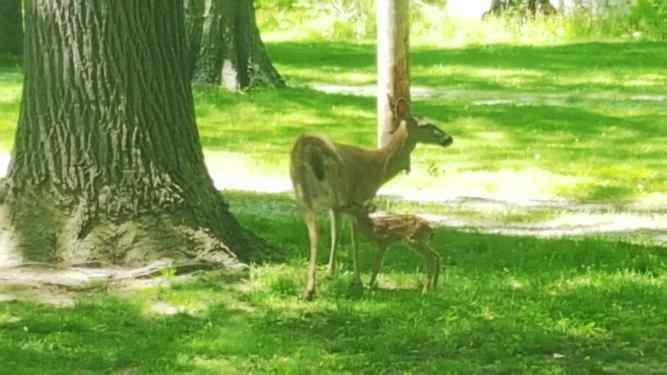 The vicious doe and fawn of Ohio
A woman in Mentor-on-the-Lake, Ohio says she feels like a "prisoner" because a deer has been attacking her repeatedly near her suburban home.
Cindy Frost has called police about the doe, and has sought protection while walking her dogs. She asked police to assist once. At other times, a neighbor stood by her with a baseball bat.
She says the female deer charged at her last week, while Frost was walking her dogs. Frost says she defended herself with her fists and a dog leash, and zigzagged back and forth to avoid the animal.
Frost contacted the Ohio Department of Natural Resources Division of Wildlife, and officials told her there's really not a lot they can do. The doe is caring for a fawn, and animal mommies can be fierce when they're protecting their babies.
From The Ohio News-Herald:
The Division receives many calls per week from the public about such occurrences involving animals protecting their babies.

"Considering the deer population is thriving in areas where humans also live, I would venture to say that such encounters are quite common," said Jamey Emmert, ODNR wildlife communications specialist. "I suggest that people give wildlife as much space as possible and respect wildlife. Many times, people approach baby animals because they appear harmless and fearless of humans, but this is not a good idea, especially for the reason being that mom is likely nearby, even if she's out of sight, and she will do anything to protect her young."

Emmert warned parents not to allow their children near baby wild animals and to secure pets.

"It's unsafe for children because of the risks of being bitten, scratched or contracting an illness from the animal," she said. "Also, it's unfair to stress the animals or habituate them."
Related video report from the local Fox affiliate is here.