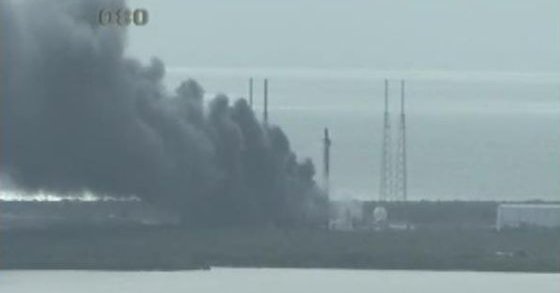 NASA
A SpaceX Falcon 9 rocket and its payload—a communications satellite backed by Facebook—were destroyed this morning during launch tests at Cape Canaveral, Fla. No-one was hurt in the explosion.
"SpaceX can confirm that in preparation for today's standard pre-launch static fire test, there was an anomaly on the pad resulting in the loss of the vehicle and its payload," SpaceX tweeted. "Per standard procedure, the pad was clear and there were no injuries."
Images from the scene, depicting a plume of dark smoke billowing from the launch site, soon hit social networks. The Brevard county Emergency Management Office said there was no threat to the public.
Here's Techcrunch's Matt Burns on the payload:
This rocket was scheduled to launch the Amos-6 communication satellite, which among other functions included the capabilities for Facebook to spot-beam broadband for Facebook's Internet.org initiative. Facebook and France-based satellite provider Eutelsat spent $95 million for a five year lease on the satellite's Ka-band communication array.