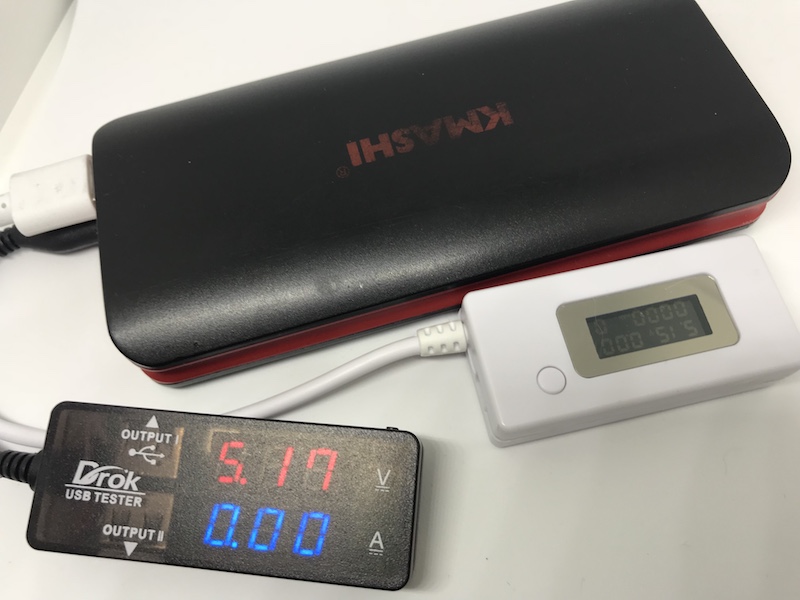 I tested the capacity of two USB battery packs using two different USB multi-meters. The results did not surprise me.
I recently acquired two $10-each USB multi-meters, the Powerjive and a DROK . The Powerjive is "easier" to use. The DROK handles more complex advanced charging protocols like Qualcomm 2.0 quick charging, and is less intuitive. The DROK read-out is brighter and the red/blue LEDs are easier to read, but there are several different screens to click thru to pretty much get the same results as the PowerJive's one dim screen.
I have two USB battery packs that I love. My 10k pack is 3 years old and has shown some loss of capacity on my "Hey, this isn't lasting as long as it used to" meter. I had estimated the battery lost 30% of its capacity. The 15k unit is new as of last month and should be capable of its marketed capacity.
I drained each battery pack by playing endless streamed video on my Fire HD 10 tablet, and my iPhone 7+. On the 10k unit this involved the blue lights going dead. The 15k brick will flash a single blue LED to indicate "charge me" without draining the battery. You may also use the USB multi-meters to measure how quickly a device burns through the pack. The Amazon tablet is pretty damn efficient, and I got hours and hours of video out of the 15k unit.
I charged each battery from "empty" until the mAh counters on the respective USB meter stopped ticking up. Once the battery packs were full, I drained them again and repeated the exercise with swapped USB meters to see if the results were similar.
The three year old 10,000 mAh battery pack takes a 6356 mAh charge according to the Powerjive unit, and a 6399 mAh charge per the Drok. This would represent around a 2.35 charges for my iPhone 7+ and its reported 2700 mAh capacity-left battery. Feels about right based off my experiential meter. I've been getting around 3 charges off it and I rarely start from zero on the phone.
The new 15,000 mAh battery was showing 13,235 mAh from the Powerjive and 13,350 on the Drok unit. This battery pack never goes completely flat, so I suspected it wouldn't take a full charge but I didn't expect around 1500 mAh to apparently be reserved to protect the lifespan of the unit, or just to not be there. Regardless, this 15,000 mAh unit gets me almost 5 full charges for the iPhone 7+ and I'll be holding on to it.
I was hungry for data, I guess. None of these results are surprising or will change how I use the battery packs.
PowerJive USB Voltage/Amps Power Meter Tester Multimeter via Amazon
DROK USB 2.0 Digital Multimeter, Ammeter Voltmeter Capacitance and Watt Meter, 7 Modes Multi Tester via Amazon
KMASHI 10000mAh Portable Power Bank with Dual USB Ports 3.1A Output and 2A Input via Amazon
KMASHI 15000mAh External Battery Power Bank, Portable Charger with Powerful Dual USB Output and 2A Input via Amazon