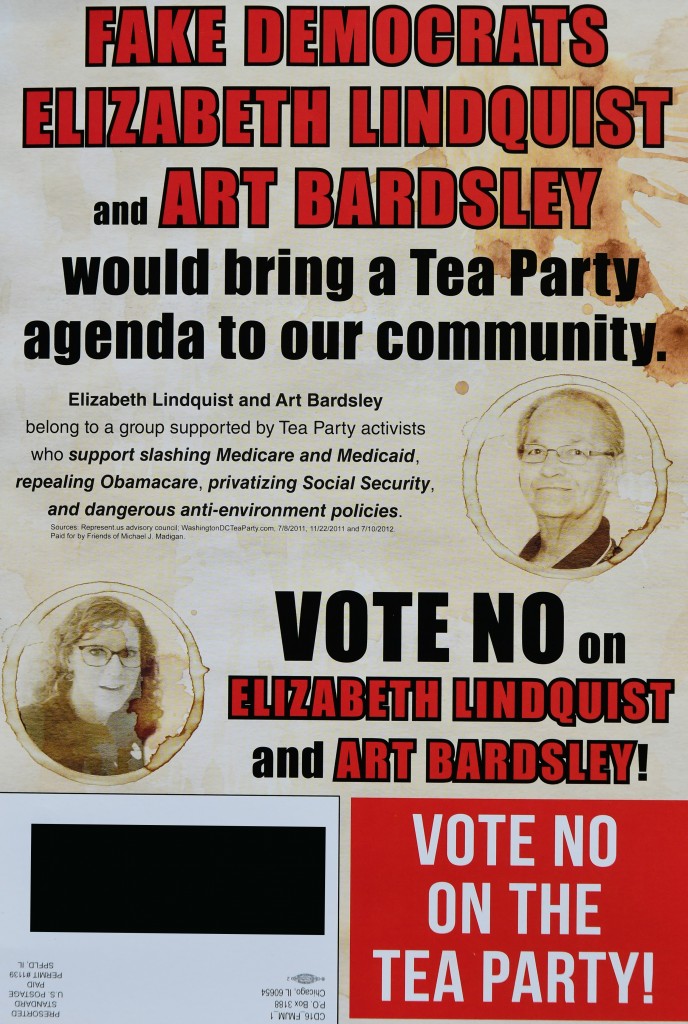 Michael Madigan has served as chairman of the Illinois Democratic Party for 20 years (prior to that, he was Speaker of the Illinois House for decades); if you donated to the party in Illinois, Mr Madigan used your money to fund mailers that smeared progressive Democratic hopefuls as being secret Tea Party members, Donald Trump supporters and opponents of universal health care.
Among those targeted by Madigan are Elizabeth Lindquist and Art Bardsley, running for seats on the State Central Democratic Committee with the backing of Our Revolution, whose platform includes universal health care, ending gerrymandering, campaign finance reform, and other anti-corruption, pro-worker measures. According to Madigan's mailer, these two are actually "members of a group supported by Tea Party activists" who advocate "slashing Medicare and Medicaid, repealing Obamacare, privatizing Social Security, and dangerous anti-environment policies."
In reality, Lindquist is publicly opposed to cuts to social programs, including all those named in Madigan's mailer; Bardsley is running on a platform of renewable energy, free state colleges, and preserving natural habitats.
Madigan targeted several other progressive Democrats in Illinois -- including those standing in races where there are no other Democratic candidates, who represent the only alternative to a Republican incumbent.
This is why you shouldn't give a dime to establishment Democratic organizations (donate to Our Revolution instead, and support progressive Democrats).
Madigan's office has been wracked by a series of sexual assault scandals that he has failed to take action on. Many Democrats have called for his resignation.
"I've been an FDR-style Democrat my entire adult life, I'm 67 and current second vice-chair for the Winnebago County Democratic Party and never have I been called a 'fake' Democrat until the 'leader' of my state party attempted to smear me as such by spending at least $16K on not one, but two full-color, front-and-back, full-page flyers accusing me of being everything I have stood against for as long as I can remember," Bardsley said in an interview. "Madigan knows if I'm elected that I will cast a vote against him for party chairman."

Madigan's committee also sent out mailers in the race for Illinois' 5th District, favoring incumbent Cynthia Santos over Melissa Lindberg, the chair of Democracy For America's Chapter in Northside Chicago. The mailers portray Santos as a candidate who stands up to Republican Gov. Bruce Rauner, who, in fact, appointed Santos to the State Pollution Control Board in 2016. Santos served as an elected commissioner of Metropolitan Water Reclamation District of Greater Chicago since 1996, before leaving the position to serve in Rauner's administration, and was first elected to the State Central Committee in 2000.

"I believe the Democratic Party is at a junction: either it changes or it dies," Lindberg told The Intercept in an interview. "I think 'Friends of Michael J. Madigan' is sending out mailers in support of Cynthia Santos because otherwise the voters of the 5th District would have no idea who she is — and she has been an elected official since 1996."
Illinois Democratic Party Chair Funds Mailers Attacking Progressive Candidates [Michael Sainato/The Intercept]