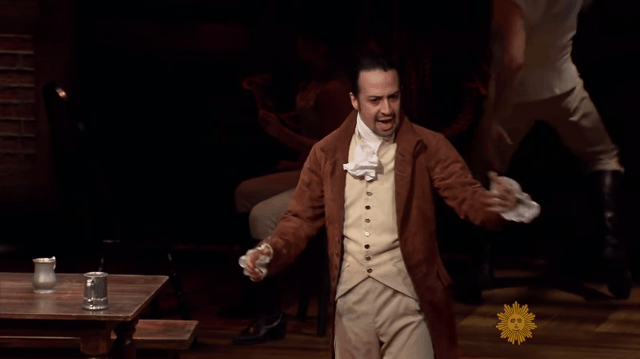 When Lin-Manuel Miranda left the cast of Hamilton in 2016, the production created an archival video of the original cast performance, saying that he had "no idea" what they'd do with the footage, "Throwing it in a vault at Gringotts for a bit probly."
He also warned that an actual screen adaptation of the musical was "decades" away.
Now, movie studios are bidding tens of millions of dollars for the right to distribute that footage, with the final sum expected to be in the $50,000,000 range, with the footage embargoed until 2020 or 2021.
Several studios have expressed interest in "Hamilton," the people with knowledge of the deal talks said. Contenders include AT&T Inc.'s Warner Bros, which in June bought the rights to adapt Mr. Miranda's musical "In the Heights," and 21st Century Fox Inc.'s Twentieth Century Fox, which made "The Greatest Showman."
https://www.wsj.com/articles/hamilton-may-be-headed-to-the-movies-1532450232 [Ben Fritz/WSJ]
(via Kottke)