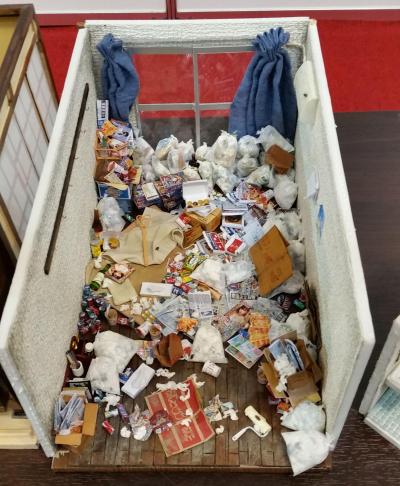 Japanese artist Miyu Kojima's dayjob is cleaning up apartments whose occupants have died "lonely deaths" (kodokushi/孤独死), where someone socially isolated declines unnoticed for months or years; the scenes of their death are both sad and grisly, as often they lie dead behind closed doors for a long time before they are missed.
As a kind of therapy, Kojima sculpts incredibly intricate miniature dioramas of the apartments she cleans, working from the photos she takes to provide documentation to the relatives of the deceased. She works from a mix of off-the-shelf dollhouse miniatures and items she sculpts herself, spending a month on each room she recreates.
Kojima's estranged father died a "lonely death." Her visits with him while he was in his final coma made her regret the estrangement; the sculptures she creates are meant to serve both as a kind of public service warning to others and partly as her own attempt to reconcile her emotions.
Kojima originally started working for the clean-up company after her father experienced a similar fate. When she was in high school her parents separated and her father was living alone. One day her mother went to visit him to discuss divorce proceedings when she discovered him collapsed after suffering a heart attack. He was rushed to the hospital and was sustained, but drifted into a coma. While unconscious, the doctors told Kojima that there was a good chance her father could hear her. And so, together with her mother, they spoke to him. The father never awoke from his coma but before passing away, tears rolled down his face. At that moment "I realized he had heard me," explains Kojima. "I wished I would have fostered more of a bond with him."
Miyu Kojima Creates Miniature Replicas of Lonely Deaths [Johnny/Spoon and Tomago]
(via Kottke)
(Image: Withnews)