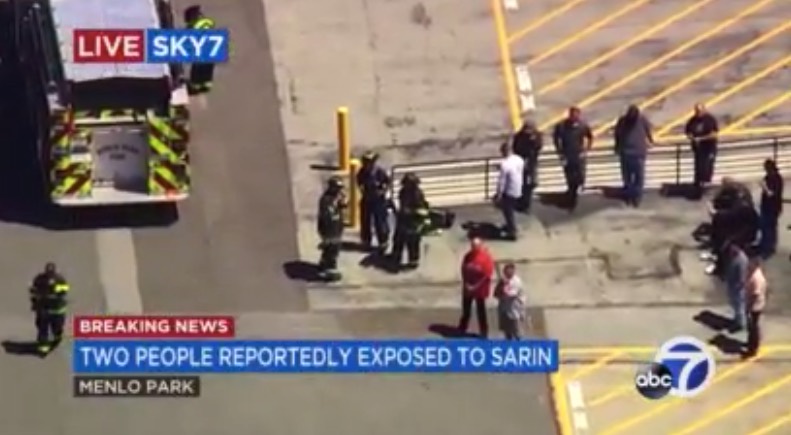 No employees have been exposed to the substance, officials said.
Multiple San Francisco Bay Area news outlets are reporting that firefighters are on the scene of what is described as a possible exposure to "sarin gas" or another chemically similar nerve agent at a Facebook mailing facility in Menlo Park, California. It may have been a false positive machine detection.
Menlo Park Fire officials say an automated threat-sniffing machine at the Facebook mail facility alerted staff on site that an incoming mail package might contain sarin.
The substance has not been confirmed to be sarin.
No employees show signs of exposure to or poisoning by the substance, the Menlo Park District said.
The specificity of initial reports seems suspect -- it's hard to know what is accurate at this early stage.
Sarin gas is a man-made chemical that attacks the central nervous system.
It is a clear, colorless liquid, and is classified as a nerve agent. Exposure to sarin gas can lead to convulsions, paralysis, and can cause death.
More: 2 employees reportedly exposed to sarin at Menlo Park warehouse owned by Facebook
BREAKING: The deadly poison sarin was detected in a mail bag at Facebook's offices in California https://t.co/JSD7Crjj8C

— Business Insider (@businessinsider) July 1, 2019
Per Menlo Fire:
- Facebook runs all their mail through a machine that can detect dangerous substances.
- Today, that machine alerted employees that a package might contain sarin; nobody was actually exposed.
- @facebook protocol is to alert the fire dept to remove/test substance

— Riya (@loislane28) July 1, 2019
Menlo Park Fire officials say machine at Facebook's mailing facility alerted employees that a package might contain sarin; the employees themselves were not exposed to the substance.

No confirmation on what the substance actually is: https://t.co/X03hfLANmm

— NBC Bay Area (@nbcbayarea) July 1, 2019
Watch: Possible sarin exposure at Facebook mailing facility. https://t.co/WhSQ2kVMmr

— ABC News 4 (@ABCNews4) July 1, 2019
From Menlo Park FD re: Facebook mailing facility

- machine alerted a package might contain Sarin
- Menlo Park FD has not confirmed it is Sarin
- Facebook protocol to alert FD in these situations
- nothing more than a suspicious package but it's part of protocol - FD Chief

— Sally Shin (@sallyshin) July 1, 2019
I'm going to venture out on a limb and guess that a corporate facility isn't using the high end of chemical warfare detection on routine mailbags.

— Dan Kaszeta (@DanKaszeta) July 1, 2019
At the cheapest end of detection is colorimetric detector paper. It gives a Sarin-like response to many materials. pic.twitter.com/bpSywnsTQJ

— Dan Kaszeta (@DanKaszeta) July 1, 2019