It's not likely that the habitués of the top Christian Facebook page of 2019, Be Happy Enjoy Life, would give a hoot that the page was run by an Eastern European troll farm. They'd just be happy that the Putin-directed propagandists are doing the Lord's work.
MIT Technology Review received an internal Facebook report from 2019 and learned that Eastern European troll farm "content was reaching 140 million US users per month—75% of whom had never followed any of the pages."
The report found that troll farms were reaching the same demographic groups singled out by the Kremlin-backed Internet Research Agency (IRA) during the 2016 election, which had targeted Christians, Black Americans, and Native Americans. A 2018 BuzzFeed News investigation found that at least one member of the Russian IRA, indicted for alleged interference in the 2016 US election, had also visited Macedonia around the emergence of its first troll farms, though it didn't find concrete evidence of a connection. (Facebook said its investigations hadn't turned up a connection between the IRA and Macedonian troll farms either.)

"This is not normal. This is not healthy," [the report's author, Jeff Allen, a former senior-level data scientist at Facebook] wrote. "We have empowered inauthentic actors to accumulate huge followings for largely unknown purposes … The fact that actors with possible ties to the IRA have access to huge audience numbers in the same demographic groups targeted by the IRA poses an enormous risk to the US 2020 election."
MIT Technology Review also learned that five of the top 20 Christian Facebook pages are still active and still being run by trolls.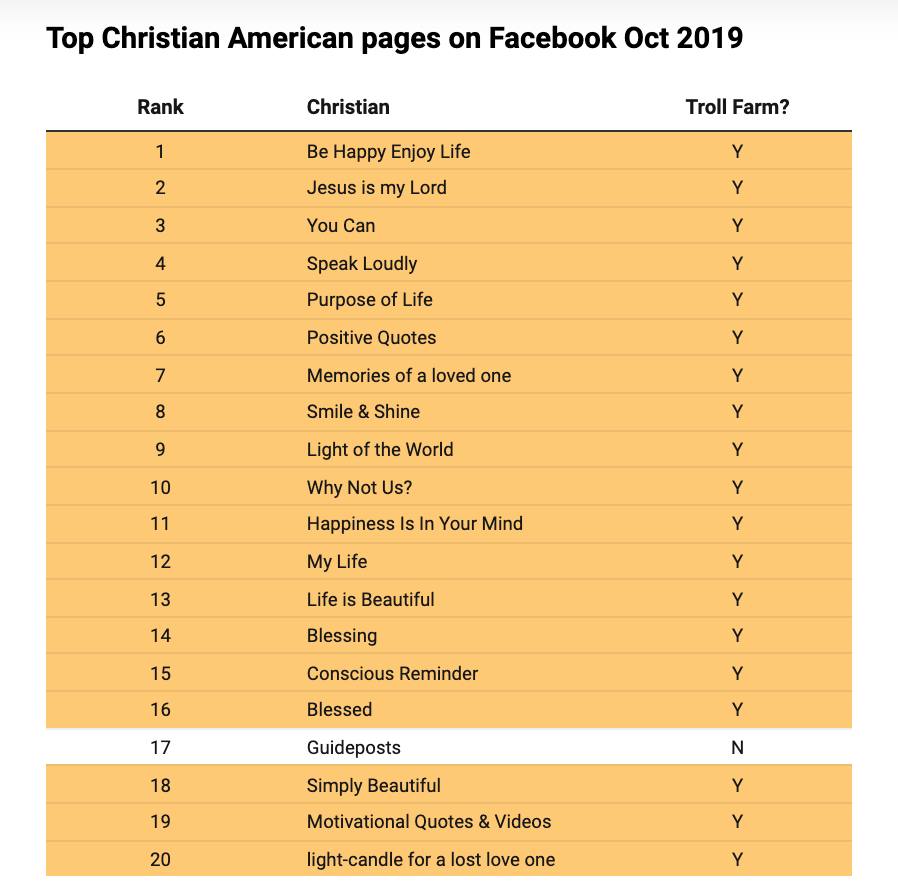 [By Gil – Own work, CC BY 2.0]