Kindle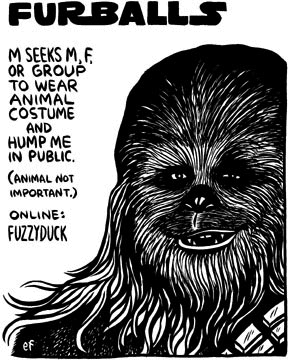 Susannah Breslin writes,
Ellen Forney is a Seattle-based artist, cartoonist, and illustrator who has a new book out, Lust: Kinky Online Personal Ads from Seattle's The Stranger, from the boys at Fantagraphics. (Her last book, I Love Led Zeppelin, was nominated for an Eisner.) Lust brings together three years worth of Forney's "Lustlab Ad of the Week" series in which she creates comic works inspired by real ads that appear in the Stranger's personal ad section: Lustlab. For the second installment of Fast and Dirty, I interviewed Forney about what it's like to bring the secret fetishes of Seattle freaks to life. Buy your own copy of Lust here.
Read
Susannah's interview with Ms. Forney here
.
Boing Boing editor/partner and tech culture journalist Xeni Jardin hosts and produces Boing Boing's in-flight TV channel on Virgin America airlines (#10 on the dial), and writes about living with breast cancer. Diagnosed in 2011. @xeni on Twitter. email: xeni@boingboing.net.
More at Boing Boing