(MP4 Download). Boing Boing Gadgets' Joel Johnson says,
Two chairs enter... two chairs leave.

In fact, I'm sitting my fat ass on one of the two chairs we reviewed right now: the Herman Miller Embody, a fine chair that only wobbles a little after running it into a wall. But I'm only sitting on it because I had to take the other chair, the Steelcase Leap, downstairs to do some more shooting for this video.

So which chair should you buy? Honestly, they're both so much better than a typical office chair it's difficult to pick, but if I were paying real money and not just begging review samples off of the manufacturers, I'd be hard pressed to pay nearly twice as much for the Embody, even if it is fantastically weird in looks. (Especially in the showcase cream-and-orange livery.)

Also, for the record, yes, this is the very best Clarkson impression I can do. And yes, it disturbed me that it isn't that different from how I normally talk in these things.
Discuss this video in the very busy thread over at BB Gadgets.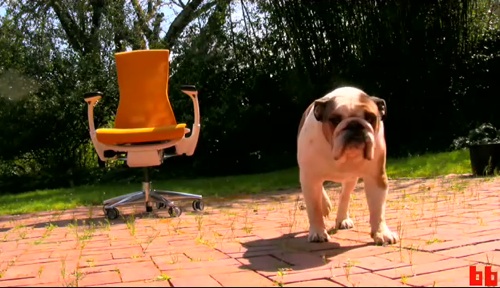 And Xeni back again with a personal plug: if you fancy buying a new office chair, and the ones featured in this review are too rich for your wallet, ping Mar over at ambiencedore.com for recommendations on cheaper alternatives, designed with ergonomic support in mind. 800-840-3488, or mar at ambiencedore dot com.
RSS feed for new episodes here, YouTube channel here, subscribe on iTunes here. Get Twitter updates every time there's a new ep by following @boingboingvideo, and here are blog post archives for Boing Boing Video.