Video of 6 main Japanese TV channels, as the quake hits
Read more at Boing Boing
Read more at Boing Boing
Read more at Boing Boing
---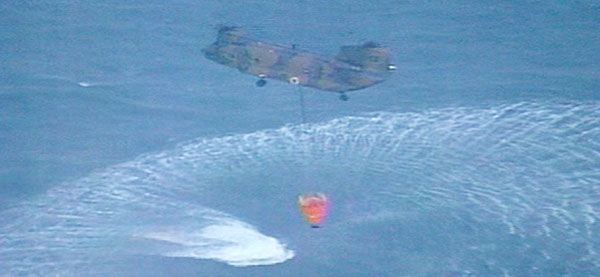 (Image, from NHK TV: A Japan Self-Defense Force helicopter collects seawater from Japan's northeast coast, en route to aerial operations over the Fukushima Dai-ichi nuclear power plant.)
About two hours ago, between 9am and 10am local time in Japan, emergency operations to drop water on to the Fukushima nuclear plant began: specifically, the No.
---
(screengrab of NHK TV coverage of the third helicopter water drop in the current operation, around 10am local time in Japan.)
Two helicopters, modified to help protect pilots from radiation, have just begun missions to drop tons of sea water on the quake and tsunami-stricken Fukushima 1 plant in Japan.
---
One of my favorite illustrators, Barnaby Ward, found a cache of 1st edition copies of his dreamlike graphic novel, Sixteen Miles to Merricks, which sold out quickly (Used copies go for $90 and up on Amazon).