Kindle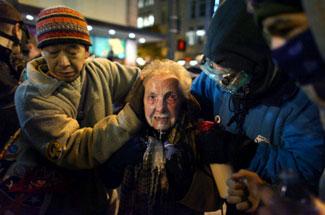 Image at left: "Seattle activist Dorli Rainey, 84, reacts after being hit with pepper spray during an Occupy Seattle protest on Tuesday, November 15, 2011 at Westlake Park."
Seattlepi.com photographer Joshua Trujillo captured this shot, along with other shots of Seattle Police officers using pepper spray to disperse a crowd.
One woman at the scene said she was two months pregnant, and was rushed to a waiting ambulance after being hit with pepper spray.
Did you see Rachel Maddow's moving monologue last night about this image? You should.
(via Dangerous Minds)
Boing Boing editor/partner and tech culture journalist Xeni Jardin hosts and produces Boing Boing's in-flight TV channel on Virgin America airlines (#10 on the dial), and writes about living with breast cancer. Diagnosed in 2011. @xeni on Twitter. email: xeni@boingboing.net.
More at Boing Boing