Kindle
Things I did not know before viewing this adorable video shot by Surrey Wildlife Trust Mammal Project Officer Dave Williams: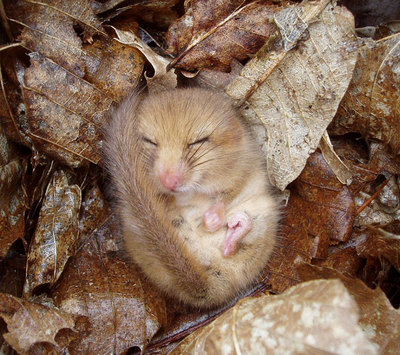 1) The dormouse, a little rodent species you'll find in Britain, hibernate in the winter in nests they hide on the ground.
2) The dormouse spends up to one-third of its life in hibernation, and typically begin that winter "sleep" when the first frost hits, and their food sources are gone.
3) They lose about a quarter of their body weight during hibernation.
4) The word "dormouse" comes from the Anglo-Norman dormeus, which means "sleepy (one)"
You can donate to support the Surrey Wildlife Trust's nature conservation work here.
(via @joeljohnson, photo: Dave Williams, Surrey Wildlife Trust)
Boing Boing editor/partner and tech culture journalist Xeni Jardin hosts and produces Boing Boing's in-flight TV channel on Virgin America airlines (#10 on the dial), and writes about living with breast cancer. Diagnosed in 2011. @xeni on Twitter. email: xeni@boingboing.net.
More at Boing Boing