Kindle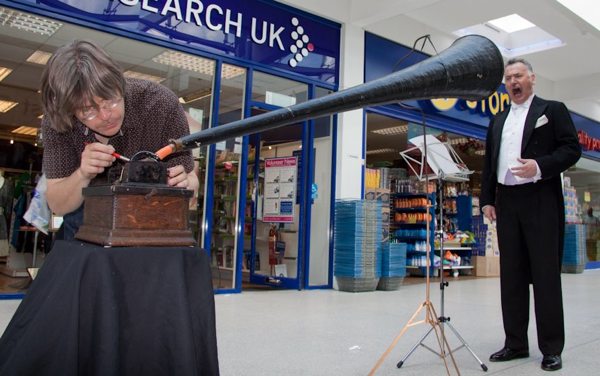 Phonographies is a collection of contemporary audio recordings made on wax cylinder phonographs from more than a century ago. In the late 1880s, Thomas Edison's wax cylinder phonographs were a mass market item. By the 1920s though, gramophone records totally dominated and cylinders quickly became a dead media. Phonographies founder Aleks Kolkowski records numerous musicians using the technology, from a jazz trio to a children's choir to avant-garde electronic composers. You hear many of the tracks above by scrolling up and down in the player. (photo by Helen Petts):
The epoch of sound rendered into physical objects has reached its nadir with the rise of the digital file. Compact discs are devalued while vinyl records and magnetic tapes have become niche products for audiophiles and widely fetishised. This archive began as a response to the increasingly transient nature of digital music consumption by returning to the very first stable recording and reproduction medium of the 1880s – the wax cylinder, in order to create and assemble a permanent collection of material sound objects. It has since developed into a more exploratory project, one that examines the potential of the wax cylinder as a recording medium by employing experimental techniques and pushing the boundaries of its recording capabilities, as well as being a joyful discovery for each contributor who re-enacts for the first time, the bygone practice of acoustically inscribing sound.
Phonographies (via The Wire)
David Pescovitz is Boing Boing's co-editor/managing partner. He's also a research director at Institute for the Future. On Instagram, he's @pesco.
More at Boing Boing