Kindle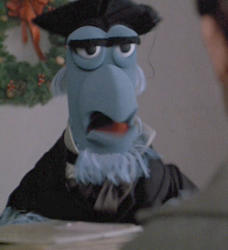 Dear readers, do not mistake this story for official facts just yet, because it looks like all we're getting from CW president Mark Pedowitz is a fleeting promise for some sort of Muppets holiday special on his television channel. He didn't use the word "new," what he said was this: "I can promise another Muppets special this holiday season."
Whoa there, Mark Pedowitz. While many of us would be unbelievably excited to see a brand new Muppets special this holiday season, are you really "promising" this kind of thing? I mean, is this thing in super secret development or something? Because it's August, and the holiday season is a mere three or so months away. Unless you're referring to what I call "Commercial Christmas," which starts in one month. That's even less time to spring a surprise Muppet holiday special upon the world! I feel like if such a special was happening, we would have heard about it earlier than this.
Then again, the Muppets are magic, and I believe in their ability to throw such a show together at the very last second, when all hope has been lost.
Here is the context for this Muppety hubbub: Pedowitz was interviewed by TV Guide at the Television Critics Association fall previews earlier this week. After answering a bunch of other questions concerning the fates of the CW's many other shows, he wrapped everything up with the quote I provided above. And that was it.
Now, last November, the CW aired A Muppets Christmas: Letters to Santa, which was originally run on NBC in 2009. It was a ratings hit for the network, no doubt because it ran right on the heels of the excitement over The Muppets being released in movie theaters the very same month. And since the Muppets are awesome, there's no reason why another special wouldn't be a success. But are they going to simply rerun an existing special, maybe The Muppet Christmas Carol? Or is something new in the works?
If there is a new special that is being produced without our knowledge, then that will make for a really cool holiday television event (for those of us who are suckers for both holiday television and the Muppets, anyway). And maybe I'll get my Christmas wish: a shot of Sam the Eagle in a Santa hat. (There isn't one. I'm a little bit sad about it.)
The CW makes Muppet Christmas promises [Tough Pigs]
When she isn't nerding out that the holidays are coming, Jamie is a reader at Monday Night Fan Fiction at Fontana's in Chinatown, NYC (next date: TBA, 7:00 PM). All work is original, written by the readers, so if you have a brilliant fanfic idea stuck in your head, send it via Twitter: @jamielikesthis
More at Boing Boing