Kindle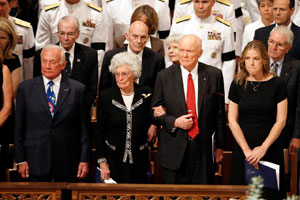 America said goodbye today to Neil Armstrong, the first man to set foot on another world beyond Earth. "The powerful of Washington, the pioneers of space, and the everyday public crowded into the Washington National Cathedral for a public interfaith memorial for the very private astronaut," reports the AP. Armstrong died last month in Ohio at age 82. He walked on the moon in July 1969. "He's now slipped the bounds of Earth once again, but what a legacy he left," former Treasury Secretary John Snow said at the services this morning at the National Cathedral. Here, his fellow Apollo 11 crew member Michael Collins remembers him.
Thumbnail: L-R, astronaut Buzz Aldrin, Annie Glenn, astronaut and former Ohio Sen. John Glenn, and singer Diana Krall, during the opening processional. (AP Photo/Ann Heisenfelt)
Boing Boing editor/partner and tech culture journalist Xeni Jardin hosts and produces Boing Boing's in-flight TV channel on Virgin America airlines (#10 on the dial), and writes about living with breast cancer. Diagnosed in 2011. @xeni on Twitter. email: xeni@boingboing.net.
More at Boing Boing