Kindle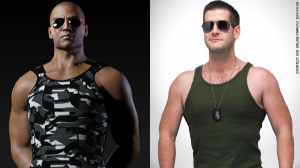 Marcus Dickinson, 40, was very overweight and unhealthy when he created his EVE Online character Roc Wieler, the tough guy seen above left. Eventually, Dickinson became so inspired by Roc that he hit the gym to be more like him. Above right is Dickinson now. "I'm a role player inherently," Dickinson says. "I take it seriously."
Virtual reality: Avatar inspires gamer to hit the gym
(CNN)
David Pescovitz is Boing Boing's co-editor/managing partner. He's also a research director at Institute for the Future. On Instagram, he's @pesco.
More at Boing Boing