Kindle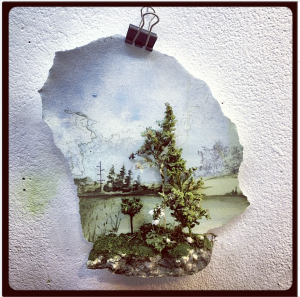 I've posted several times about the entrancing landscape dioramas and sculptural paintings of Gregory Euclide who is perhaps best known for creating the cover art of Bon Iver's eponymous album. Euclide's painting above will be up for grabs in the Minneapolis College of Art and Design's massive MCAD Art Sale opening on Thursday (11/15) at 6pm and continuing through Saturday (11/17). (Euclide is an MCAD alum and current instructor.) The MCAD Art Sale features hundreds of pieces by students and recent graduates of the school. When the opening bell rings, the mad rush begins and people literally grab the art right off the walls. The works range from less than $100 to $1500 max, with 80% of that money going directly to the artists. This isn't just a Minneapolis thing though. For years, the annual MCAD Art Sale has been a magnet for collectors and art lovers from around the country seeking killer deals on work by emerging artists. No online sales though -- you just gotta be there.
"Have Art, will sell" (Star Tribune)
David Pescovitz is Boing Boing's co-editor/managing partner. He's also a research director at Institute for the Future. On Instagram, he's @pesco.
More at Boing Boing