Kindle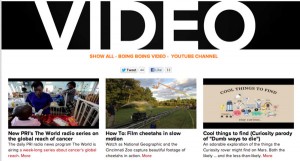 We've recently launched Boing Boing's all-new Video page, where all of the videos we blog on Boing Boing are viewable in one big-ass awesome grid of video-licious awesome awesomeness.
Some recent picks:
* Neil Patrick Harris "dreams in puppets" in a new web series on Nerdist.
* National Geographic and the Cincinnati Zoo capture beautiful footage of cheetahs in action.
* An adorable exploration of the things the Curiosity rover might find on Mars.
* The Howard the Duck theme in a form you've never seen before.
* footage of a vicious and terrifying prank from a Brazilian candid-camera show.
* Extreme Card Manipulation, from a group of trick virtuosos in Singapore.
* A CNN report on the arsenal discovered on the North Korean assassin arrested in Seoul last year: a poison-dart pen, a pen-pistol, a flashlight-gun, and more.
Boing Boing editor/partner and tech culture journalist Xeni Jardin hosts and produces Boing Boing's in-flight TV channel on Virgin America airlines (#10 on the dial), and writes about living with breast cancer. Diagnosed in 2011. @xeni on Twitter. email: xeni@boingboing.net.
More at Boing Boing