Kindle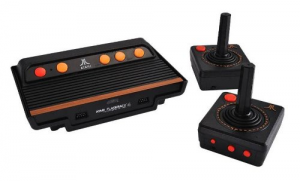 AT Games has released the new Atari Flashback 4 console, this time with wireless joysticks. It's loaded with Asteroids, Missile Command, Space Invaders, Jungle Hunt, Centipede and 70 more classics, but not E.T. the Extra-Terrestrial. Here's the menu:
3D Tic-Tac-Toe, Adventure, Adventure II, Air·Sea Battle, Aquaventure, Asteroids, Backgammon, Basketball, Battlezone, Black Jack, Bowling, Breakout, Canyon Bomber, Centipede, Championship Soccer, Circus Atari, Combat Two, Combat, Crystal Castles, Demons to Diamonds, Desert Falcon, Dodge 'Em, Double Dunk, Fatal Run, Flag Capture, Football, Frog Pond, Front Line, Fun with Numbers, Golf, Grand Prix, Gravitar, Hangman, Haunted House, Home Run, Human Cannonball, Jungle Hunt, Maze Craze, Miniature Golf, Missile Command, Night Driver, Off The Wall, Outlaw, Polaris, Realsports Baseball, Realsports Basketball, Realsports Soccer, Realsports Volleyball, Return to Haunted House, Saboteur, Save Mary, Sky Diver, Slot Machine, Slot Racers, Solaris, Space Invaders Space War, Sprintmaster, Star Ship, Steeplechase, Stellar Track, Street Racer, Submarine Commander, Super Baseball, Super Breakout, Super Football, Surround, Tempest, Video Checkers, Video Chess, Video Olympics, Video Pinball, Warlords, Wizard, Yars' Revenge
Atari Flashback 4
(Thanks, Charles Pescovitz!)
David Pescovitz is Boing Boing's co-editor/managing partner. He's also a research director at Institute for the Future. On Instagram, he's @pesco.
More at Boing Boing