Kindle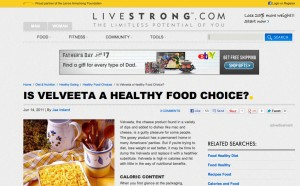 There are three things very wrong in this article at Livestrong.com, which my friend Meredith Yayanos pointed me to just now via Twitter. One, "nutrition" and "Velveeta" used in the same sentence at a website associated with cancer prevention and treatment. Two, the message in the yellow band—probably something they want to downplay right now, but no-one has gotten around to updating on the site. And the third is the real kicker, but you'll have to read the copy closely to find it.
The Livestrong dot-com site is basically a content farm populated with Turked-out SEO-bait by Demand Media; the dot-org is where the cancer advocacy organization does its thing.
Boing Boing editor/partner and tech culture journalist Xeni Jardin hosts and produces Boing Boing's in-flight TV channel on Virgin America airlines (#10 on the dial), and writes about living with breast cancer. Diagnosed in 2011. @xeni on Twitter. email: xeni@boingboing.net.
More at Boing Boing