Kindle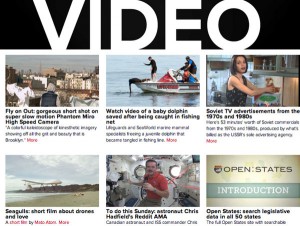 We've gathered fresh video for you to surf and enjoy on the Boing Boing video page. The latest finds for your viewing pleasure include:

• "Fly on Out," short shot on super slowmo Phantom Miro High Speed Camera.
• Video of a baby dolphin saved after being caught in fishing net.
• Soviet TV advertisements from the 1970s and 1980s.
• Seagulls: a short film about drones and love.
• Russian dash cams.
• Skateboarder backflips down stairs onto skateboard.
• Freaky cute frog is angry and yet still very cute.
Boing Boing editor/partner and tech culture journalist Xeni Jardin hosts and produces Boing Boing's in-flight TV channel on Virgin America airlines (#10 on the dial), and writes about living with breast cancer. Diagnosed in 2011. @xeni on Twitter. email: xeni@boingboing.net.
More at Boing Boing