Kindle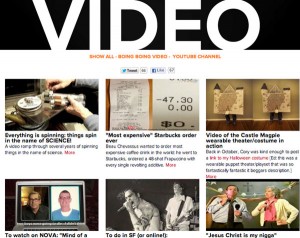 We've gathered fresh video for you to surf and enjoy on the Boing Boing video page. The latest finds for your viewing pleasure include:

• Tickle Me Elmo frozen in carbonite.
• Video romp through several years of spinning things in the name of science.
• "Most expensive" Starbucks order ever: 48-shot Frapuccino, ALL the additives.
• A doc on The Farm of SF, home to chickens, goats, and punk bands in the '80s.
• "Jesus Christ is my nigga," a likely fake but damned funny church video.
• "Applejack's Apple Harvest" My Little Pony automata.
• Video of the Castle Magpie wearable theater/costume in action.
Boing Boing editor/partner and tech culture journalist Xeni Jardin hosts and produces Boing Boing's in-flight TV channel on Virgin America airlines (#10 on the dial), and writes about living with breast cancer. Diagnosed in 2011. @xeni on Twitter. email: xeni@boingboing.net.
More at Boing Boing