Kindle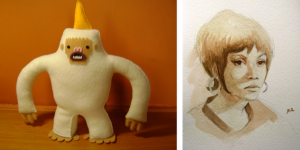 Q Pop is holding an online Star Trek art sale with more than 100 piece most of which are less than $100! Above, Doug Gauthier's "Mugato" plushie ($100) and Peter Paul's "Uhura" watercolor ($50). "
Beam Me Up: Star Trek Art Show
"
David Pescovitz is Boing Boing's co-editor/managing partner. He's also a research director at Institute for the Future. On Instagram, he's @pesco.
More at Boing Boing