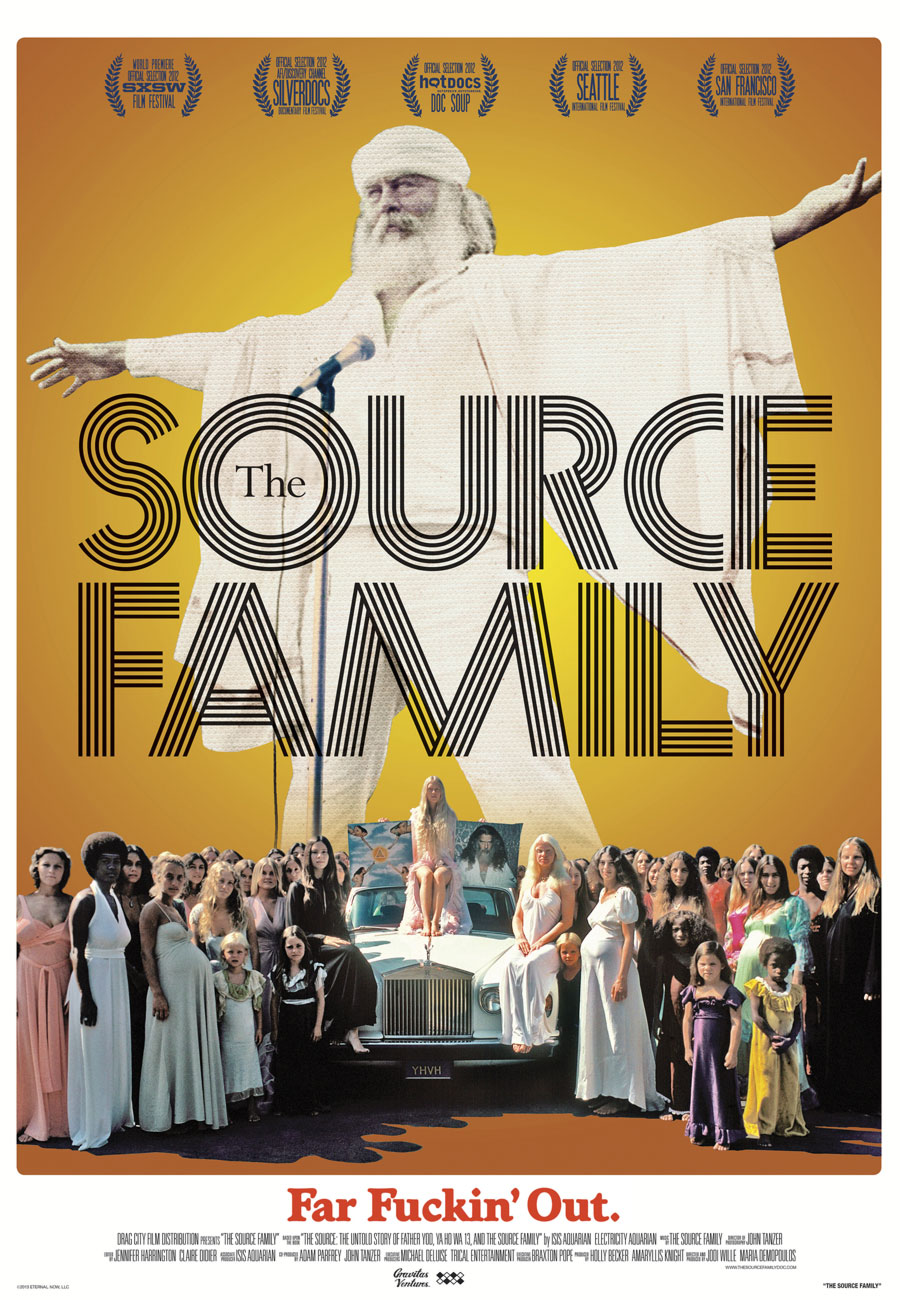 Kindle
Far Fuckin' Out. Above, one of the official movie posters for
The Source Family documentary
Pesco
wrote about earlier
.
I just got back from Hawaii, where I spent time with one of the stars of the film (also its associate producer), Isis Aquarian, and with other members of the legendary sex-drugs-and-rock-n-roll cult. I'll share more from my time with them, soon, but for now: I've seen the film, and it's really fantastic. You gotta see it. Mark your calendars, freaks.
The film is based on the book "The Source: The Untold Story of Father Yod, Ya Ho Wa 13, and The Source Family," the story of an intentional flower child community that became a radical experiment in '70's utopian living.
The LA premiere will be on Thursday, May 9th at the West Hollywood Standard Hotel, right across the street from the site of the original Source restaurant, the vegetarian eatery run by the cult and once frequented by celebs of the day.
"Cinespia and Cinefamily are producing the event," director Jodi Wille tells Boing Boing, "And we'll screen the film under the stars on the deck, serving original Source Family recipes with live Source Family music afterwards."
It's gonna be awesome. Below, the complete list of premiere dates in 20 cities around the US. Also, trailer's up on YouTube now, and vimeo.
New York, NY - opens Wed. May 1 @ IFC Center
San Francisco, CA - opens Fri. May 3 @ Roxie Cinema
Seattle, WA - opens Fri. May 3 @ SIFF Cinema Uptown
Los Angeles, CA - LA premiere @ Standard Hotel West Hollywood
Los Angeles, CA - opens Fri. May 10 @ Cinefamily
Dallas, TX - runs Fri. May 10-Sun. May 12 @ Texas Theatre
Philadelphia, PA - plays Sat. May 11 @ International House Philadelphia
Ft. Collins, CO - runs Wed. May 15 & Thu. May 16 @ Lyric Cinema Café
Columbia, MO - runs Wed. May 15 & Thu. May 16 @ Ragtag Cinema
Portland, OR - opens Fri. May 17 @ Hollywood Theatre
San Jose, CA - opens Fri. May 17 @ Camera 3 Downtown
Santa Fe, NM - opens Fri. May 17 @ Center for Contemporary Arts
Tulsa, OK - opens Fri. May 17 @ Circle Cinema
Miami, FL - opens Fri. May 17 @ O Cinema
Bellingham, WA - opens Fri. May 17 @ Pickford Film Center
Nashville, TN - opens Fri. May 17 @ Belcourt Theatre
Nevada City, CA - runs Fri. May 17-Sun. May 19 @ Nevada Theater
Phoenix, AZ - runs Fri. May 17-Sun. May 19 @ Film Bar
Austin, TX - runs Sat. May 18-Sun. May 19 @ Alamo Drafthouse - Ritz
Denver, CO - opens Fri. May 31 @ SIE FilmCenter
Cleveland OH - plays Wed. June 5 @ Cleveland Museum of Art
Boing Boing editor/partner and tech culture journalist Xeni Jardin hosts and produces Boing Boing's in-flight TV channel on Virgin America airlines (#10 on the dial), and writes about living with breast cancer. Diagnosed in 2011. @xeni on Twitter. email: xeni@boingboing.net.
More at Boing Boing