Kindle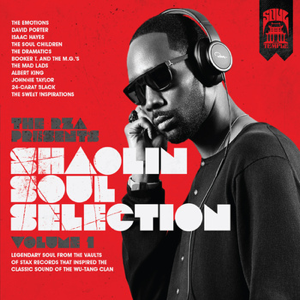 The Wu-Tang Clan wears its Stax soul influences on its sleeves and in its samples. A few compilations of Wu-Tang sample source material have been floating about but now Soul Temple Music have done it right with "The RZA presents Shaolin Soul Selection: Volume 1." Culled from the Stax archives, the 24-track compilation features classic hits like Isaac Haye's "Walk On By" (live performance above) and David Porter's "Hang On Sloopy," but also more obscure tracks by The Emotions, The Dramatics, Booker T & The MG's, and many other artists. I picked it up as the 3-LP vinyl set. No soul compilation has come close to hitting all the right notes for me since the promo-only "East Memphis Music" 2-LP or (outstanding) 5-LP sets from 1984 that are fairly easy to grab used. In fact, at this moment AudioPhile USA -- which always does right by me in terms of top-quality used vinyl, killer customer service, and flawless packing/shipping -- has still-sealed copies of both for $30 and $150 respectively.
Read more in Music at Boing Boing
David Pescovitz is Boing Boing's co-editor/managing partner. He's also a research director at Institute for the Future. On Instagram, he's @pesco.
More at Boing Boing