Kindle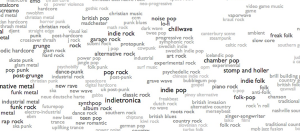 "
Every Noise At Once
" is a fun, clickable map of musical genres where you can hear samples of the bands.
Read more in Music at Boing Boing
David Pescovitz is Boing Boing's co-editor/managing partner. He's also a research director at Institute for the Future. On Instagram, he's @pesco.
More at Boing Boing