Kindle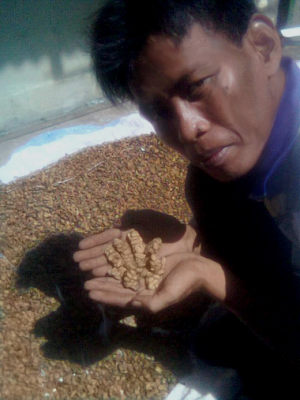 How do you know if your
kopi luwak
coffee, made from beans collected, swallowed, and crapped back out by civets, is the real deal? Japanese and Indonesian biotechnologists have developed a chemical test to authenticate your pricey cup of joe. Their scientific paper, titled "
Selection of Discriminant Markers for Authentication of Asian Palm Civet Coffee (Kopi Luwak): A Metabolomics Approach
," was published in the Journal of Argicultural and Food Chemistry.
"Now A Test Can Tell If Your Pricey Cup Of Cat Poop Coffee Is Fake" (NPR)
Image: "Indonesian farmer shows coffee beans already digested by Asian Palm Civet, but before cleaning and roasting" (HaztechGuy/Wikipedia)
David Pescovitz is Boing Boing's co-editor/managing partner. He's also a research director at Institute for the Future. On Instagram, he's @pesco.
More at Boing Boing