Kindle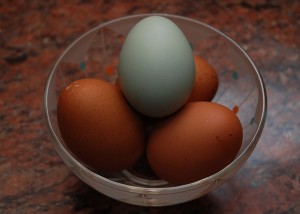 The answer: Because of a harmless-to-humans viral infection.
The bluish egg above was laid by an araucana, a breed of chicken native to Chile and one of two breeds well known for occasionally popping out a blue egg. Turns out, it's the result of the chicken being infected with a retrovirus — a virus that can insert its own genetic information into the host's DNA. In this case, the virus just happens to turn eggs blue.
Image: Lavender Araucana, a Creative Commons Attribution Share-Alike (2.0) image from julianjb's photostream
Maggie Koerth-Baker is the science editor at BoingBoing.net. She writes a monthly column for The New York Times Magazine and is the author of Before the Lights Go Out
, a book about electricity, infrastructure, and the future of energy. You can find Maggie on Twitter and Facebook.
Maggie goes places and talks to people. Find out where she'll be speaking next.
More at Boing Boing